Hsinchu, Taiwan – Oct 20, 2021 – Lionic, the Deep Packet Inspection based network security company, is thrilled to announce the launch of the new website of Pico-UTM - https://www.pico-utm.com. This new website added plenty of Pico-UTM information and refined the buying procedures from all the distributors.
This brand new Pico-UTM website features Pico-UTM tutorial videos, frequently asked questions, Pico-UTM related security reports and news and distributors' contacts. Almost all information about Pico-UTM is collected in this website. Customers will have better experiences in reading the Pico-UTM information and know how to buy Pico-UTM.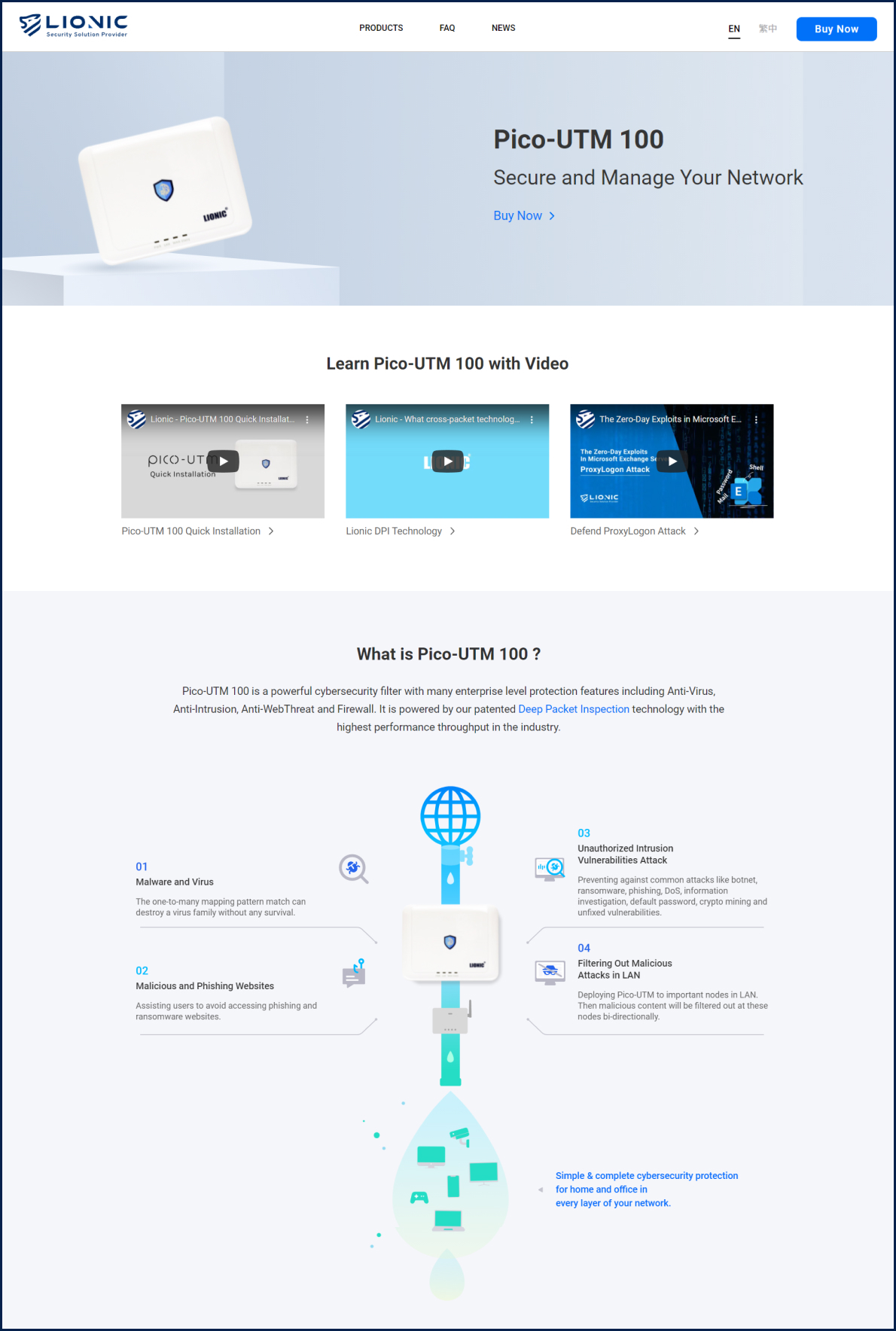 The screen capture of https://www.pico-utm.com
"The new Pico-UTM website will help end users to have better understandings about Pico-UTM. ", said Eric Lu, the CEO of Lionic corporation, "It has the most updated information about our Pico-UTM product. Also, this Pico-UTM website enhanced the cooperation among Lionic and distribution partners."
The sales volume of Pico-UTM is rising gradually. At this important moment, the new Pico-UTM website will be an important promotion tool to keep this trend. We wish all the people can buy a cost effective network security device easily.
About Lionic Corporation
Lionic Corporation is a worldwide provider of innovative Deep Packet Inspection solutions. The technologies of Lionic include the complete DPI-based software engine and related management software which offer the Security Solutions that addresses anti-virus, anti-intrusion, anti-webthreat; and the Content Management Solutions that addresses application identification, device identification, application based QoS, web content filtering, parental control.
Lionic's security and content management solutions, cloud-based scan services and signature subscription service are widely deployed in the world already. They help service providers, network appliance manufacturers, semiconductor companies, etc. to enable the next generation of business routers, residential gateways, SD WAN edges and cloud gateways, advanced firewalls, UTMs, Smart NICs and mobile devices. Those products powered by Lionic provide better network management and protect the world's networks from an ever increasing level of security threats.