A Swiss Army knife security tool on Android platform
It can protect users against the threats of Android malwares.

Lionic Antivirus for Android, formerly known as AegisLab Antivirus, is re-branded and launched again. It is not only a Android antivirus program, but also a permission checker, file encryption tool, app locker, URL categorization and so on. Those comprehensive security features are packed into the commercial Lionic Antivirus Premium. We also provide the Lionic Antivirus Lite which is free for personal use. Both versions help in protecting your Android phones and tablets.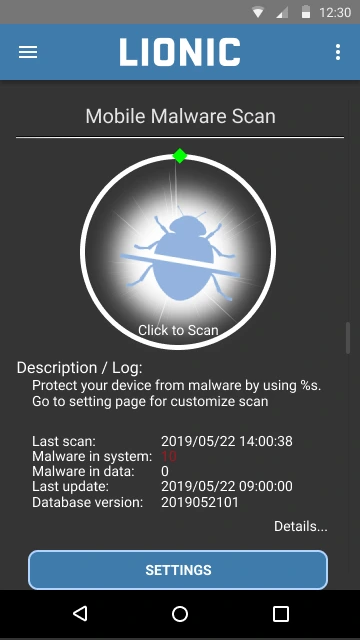 Mobile Malware Scan
Real-time and manual scan mobile malwares
Support 4 scan modes
System Scan
File Scan
Cloud based Scan
Scheduled Scan
Automatically scan when downloading or installing app.
Cloud based scan provides much higher virus detection rate.
We have obtained AV-TEST Certification with 100% Detection Record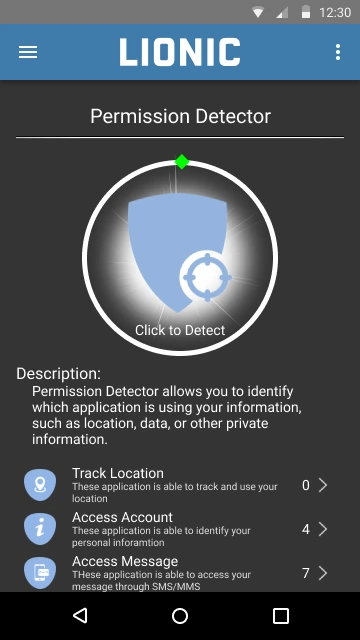 Permission Detector
Some applications ask so many permissions.
You may have no idea which ones are dangerous.
Permission Categories.
Track Location: To track and user your locations.
Access Account: To identify your personal information.
Access Message: Access your message through SMS/MMS.
Access Contacts: Access your contact list.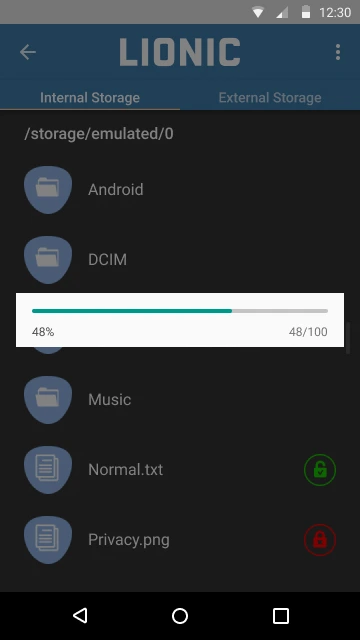 File Encryption
Encrypting files to protect against data leakage.
To secure your private file from unwanted access without permission.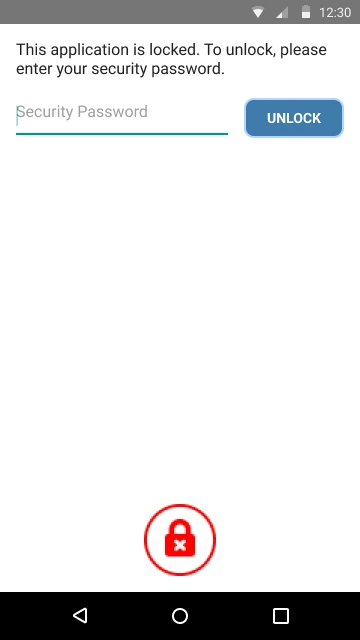 Application Lock
To secure your privacy.
To limit certain access for any particular app in any particular time.
Take picture on invader.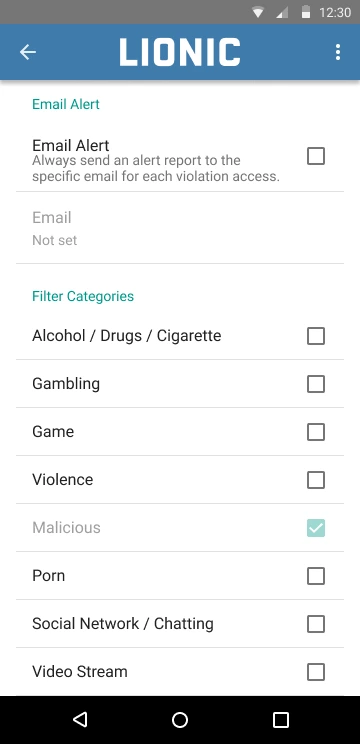 URL Filter
Supporting Lionic Web Content Category Database for classifying categories.
To screen an incoming web page to determine whether it should/should not be displayed to the user.
We will send email alert when children try to access unsuitable web.
Filter Categories.
Both AV-Test and AV-Comparatives organizations give Lionic Antivirus good scores. Please check the following two press releases.