Hsinchu, Taiwan – Jan 30, 2022 – Last week, Conti ransomware hits Delta Electronics, a tech giant which supplies Apple, Tesla, HP, Dell and other big companies in the world. The headquarter of Delta Electronics is located in Taiwan. Some reports mentioned that 1,500 servers and 12,000 personal computers are impacted. And a USD 15 million ransom is asked. However, Delta Electronics denied it via the announcement system of Taiwan Stock Exchange. The Taiwan branches of Microsoft and TrendMicro are invited to investigate this ransomware event.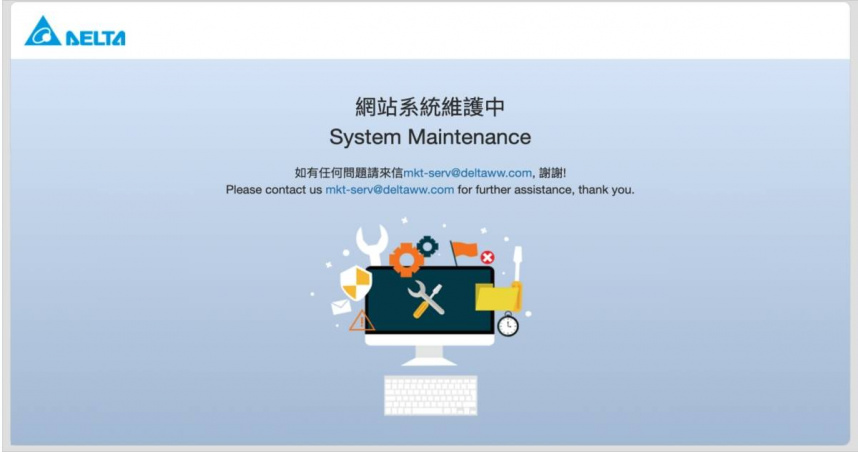 Delta Electronics shut down its official website after Conti ransomware impacts it.
The screenshot from Delta Electronics official website.
Conti Ransomware
Conti is a sophisticated Ransomware-as-a-Service (RaaS) model first detected in December 2019. It grows rapidly and get beyond other RaaS like Ryuk. The Cybersecurity and Infrastructure Security Agency (CISA), Federal Bureau of Investigation (FBI) and National Security Agency (NSA) issued a warning together about Conti in Sept 2021,
The infection of Conti ransomware begins from a lot of phishing emails. Once a user open the malicious attachments, Conti ransomware is executed and uses several vulnerabilities to infect other computers - MS17-010, CVE-2021-34527 and CVE-2020-1472. And MS17-010 includes CVE-2017-0143, CVE-2017-0144, CVE-2017-0145 and CVE-2017-0146.
| Id | Description | CVSS v3 Score | Severity Level |
| --- | --- | --- | --- |
| MS17-010 | Several vulnerabilities could allow remote code execution if an attacker sends specially crafted messages to a Microsoft Server Message Block 1.0 (SMBv1) server. | N/A | N/A |
| CVE-2021-34527 | Windows Print Spooler Remote Code Execution Vulnerability | 8.8 | High |
| CVE-2020-1472 | An elevation of privilege vulnerability exists when an attacker establishes a vulnerable Netlogon secure channel connection to a domain controller, using the Netlogon Remote Protocol (MS-NRPC), aka 'Netlogon Elevation of Privilege Vulnerability'. | 10 | Critical |
Therefore, 1,500 servers and 12,000 personal computers of Delta Electronics are infected. Most files on those computers are encrypted by AES-256 with a key only known by Conti ransomware gang. The Conti ransomware gang asked Delta Electronics to pay a USD 15 million ransom for a decryptor and stop leaking files stolen from its network.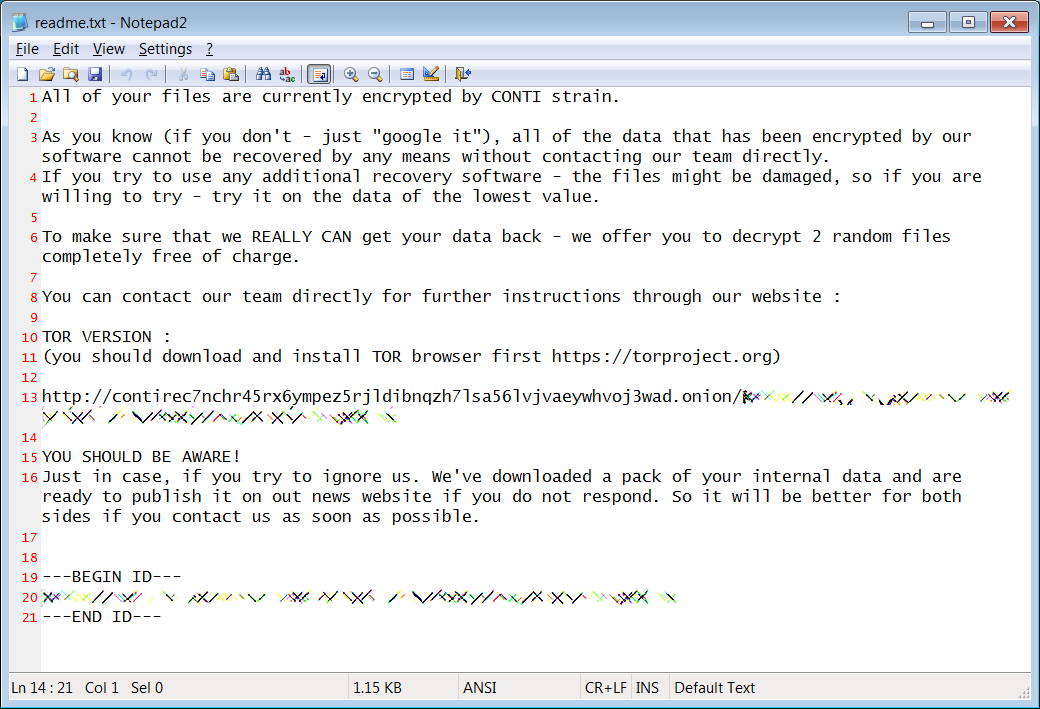 Delta Electronics Conti ransom note (Reference from BleepingComputer)
Lionic Security Team
CTWANT media reported that the hash value of Conti ransomware in this event is
5ace33358a8b11ae52050d02d2d6705f04bd47a27c6c6e28ef65028bbfaf5da9 .
Lionic has collected several millions of ransomwares so far. The Conti ransomware family is in our collection already and includes the above one exactly.
Detecting all the several millions of ransomwares can be done via the Lionic Anti-virus Cloud Service. All Lionic security technology based products can protect against Conti ransomware if its Lionic Anti-virus Cloud feature is enabled. Lionic Pico-UTM can block this malware, of course.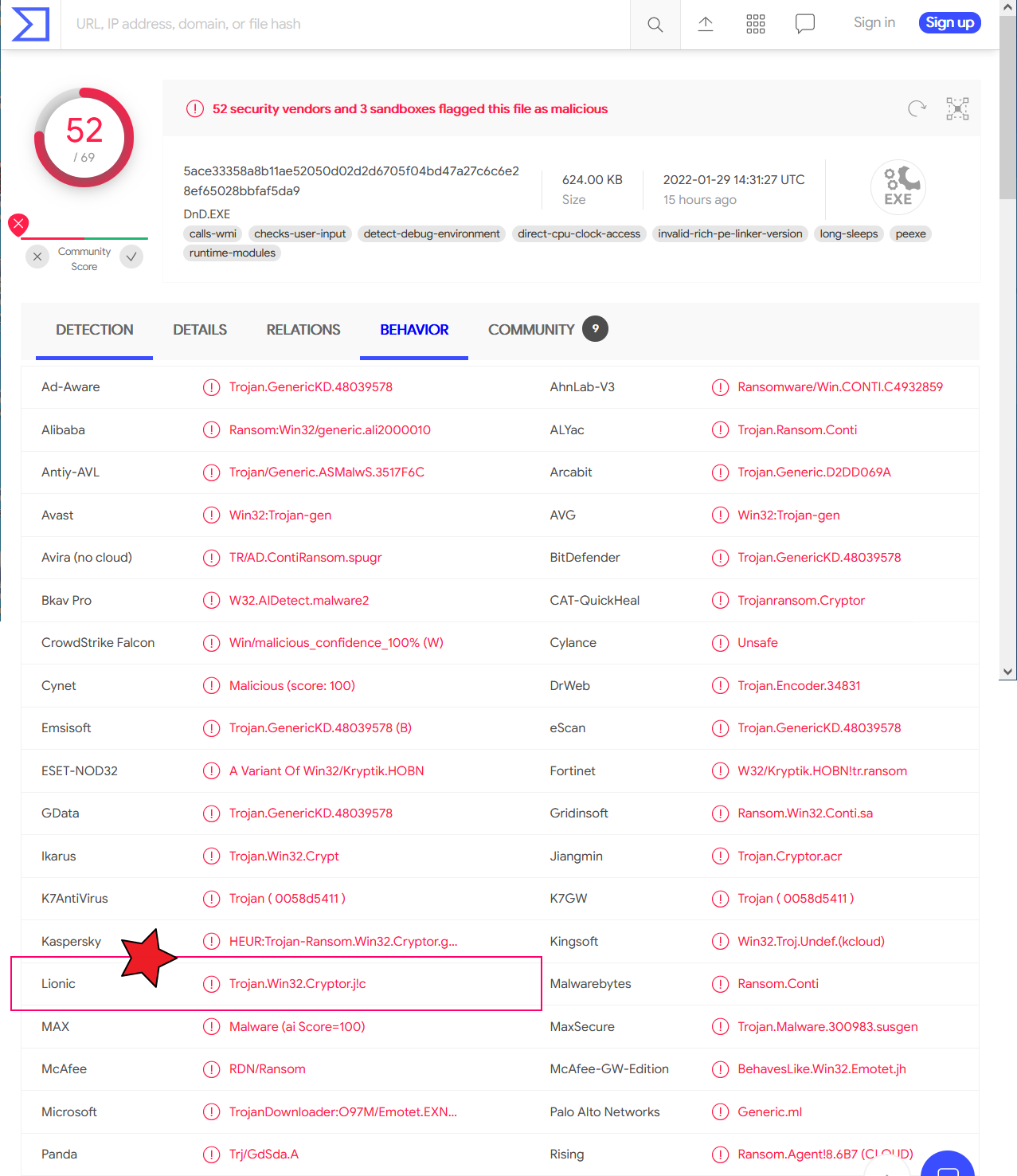 VirusTotal, a Google company, has many anti-virus vendors as partners including Lionic.
Conclusion
Delta Electronics is a tech giant in the world and has many resources. There may be some reasons caused such tech giant to have so many computers which are not updated to latest version. They may think their servers and personal computers are in a closed network and thus their computers may not be modified once they are working. It is wrong because most ransomware outbreaks are inside LAN.
In this situation, the IT guys of Delta Electronics are recommended to use the Lionic Pico-UTM as the "Virtual Bug Fix". They can deploy a large volume of Pico-UTM in many important nodes of their LAN. All the nodes which installed Pico-UTM can filter out the malicious content bi-directionally including Conti ransomware. The more Pico-UTM are adopted, the impact of ransomware is less. And then IT guys do not need to worry about the ransomware or any unsolved vulnerabilities. Lionic Pico-UTM is cost effective and therefore is suitable to deploy a large volume.
References:
About Lionic Corporation
Lionic Corporation is a worldwide provider of innovative Deep Packet Inspection solutions. The technologies of Lionic include the complete DPI-based software engine and related management software which offer the Security Solutions that addresses anti-virus, anti-intrusion, anti-webthreat; and the Content Management Solutions that addresses application identification, device identification, application based QoS, web content filtering, parental control.
Lionic's security and content management solutions, cloud-based scan services and signature subscription service are widely deployed in the world already. They help service providers, network appliance manufacturers, semiconductor companies, etc. to enable the next generation of business routers, residential gateways, SD WAN edges and cloud gateways, advanced firewalls, UTMs, Smart NICs and mobile devices. Those products powered by Lionic provide better network management and protect the world's networks from an ever increasing level of security threats.