Vice President Lai Ching-te visited BILLOWS and LIONIC demonstration, Billows general manager Gavin Cheng(Left)explanation. Photo provided by LIONIC
(Left photo) CONTREL senior director JJ Chen(Left), CONTREL COO Kung-Hsu Yeh, Billows general manager Gavin Cheng and LIONIC CEO Eric Lu group photo.
(Right photo) Cyber Taiwan Pavilion SEMI E187 Semiconductor Cybersecurity zone – LIONIC. Photos provided by LIONIC
The CYBER TAIWAN PAVILION enters its sixth year of participation. The Ministry of Digital Affairs have gathered the top Taiwanese cybersecurity companies to continue building a unique exhibition showcasing Taiwan's research and development capabilities. The venue has four thematic exhibitions, including "Zero Trust Cybersecurity", "Semiconductor Cybersecurity", "IoT Cybersecurity" and "5G".
In the Semiconductor Cybersecurity zone, it focuses on how to enhance cybersecurity to avoid massive losses caused by production line shutdowns and is compliant with SEMI E187, such as the enhancing cybersecurity measures for Overhead Hoist Transfers by CONTREL Technology Co., Ltd., BILLOWS Technology LTD. and LIONIC Corp Tera-UTM 12 solution. After the automatic update of the built-in black and white lists, Tera-UTM 12 blocks network access from attack sources, strengthening endpoint protection and security monitoring for the machines. In addition, hardware detection technology shows the importance of enhancing cybersecurity from the chip design stage and equipment security.
Cyber Taiwan Pavilion SEMI E187 Semiconductor Cybersecurity zone – LIONIC. Photos provided by LIONIC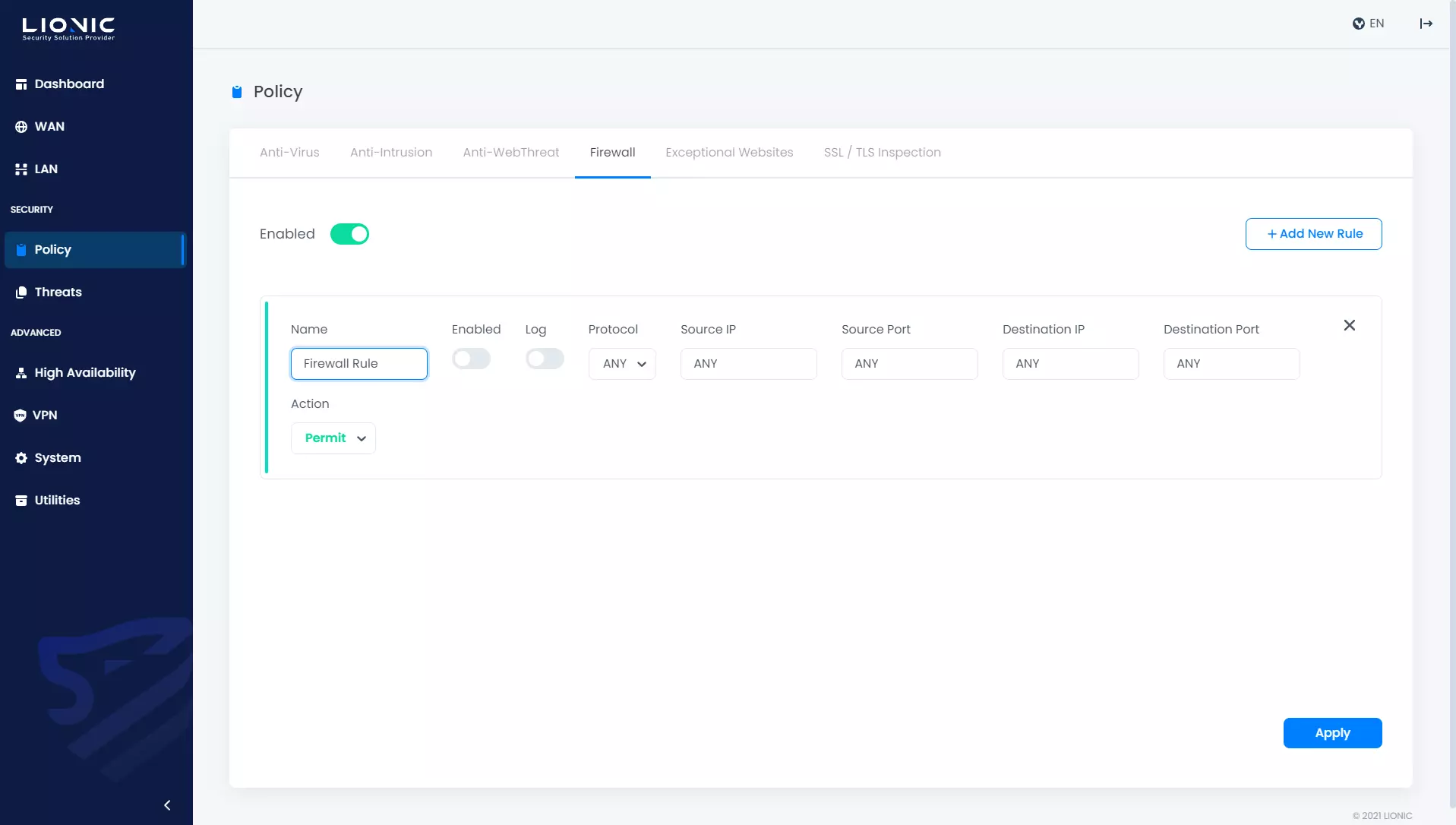 LIONIC Tera-UTM 12 GUI. Image provided by LIONIC
Tera-UTM 12 in compliance with the SEMI-E187 guidelines, provides protection for various scenarios of industrial areas. The comprehensive security features include Anti-Virus, Anti-Intrusion, Anti-WebThreat, Firewall, Anti-Region and advanced protection of ICS. Protecting network devices for business operations and ensure uninterrupted operation of OT systems.
Cyber Taiwan Pavilion – LIONIC ( New product Tera-UTM 12 ). Photos provided by LIONIC
President Tsai Ing-wen and Vice President Lai Ching-te reiterated the importance of "cybersecurity is national security" during their attendance at the "CYBERSEC 2023 Taiwan". Our goal is to ensure good cybersecurity so that our industries can prosper. The government will work with Taiwan's industries, private sector experts, and communities to build a cybersecurity "national team", to create a cybersecurity system and industrial chain that's trusted globally.
About Lionic Corp.
Lionic Corporation is a worldwide provider of innovative Deep Packet Inspection solutions. The technologies of Lionic include the complete DPI-based software engine and related management software which offer Security Solutions that addresses anti-virus, anti-intrusion, anti-webthreat; and the Content Management Solutions that addresses application identification, device identification, application-based QoS, web content filtering, parental control. Lionic's security and content management solutions, cloud-based scan services and signature subscription service are widely deployed worldwide.