Hsinchu, Taiwan - November 10, 2023 - Lionic Corporation, a pioneer in DPI(deep packet inspection) and network security technology, is excited to announce its latest offering, the Live Cyber Threat Map service. This service provides visualized statistical information on global cyber threats. Also, it proves that Lionic Corporation is capable of collecting, analyzing, and applying cybersecurity intelligence.
Lionic's expertise in network security technology has empowered them to create a variety of proprietary products that enhance cybersecurity. These products, such as Pico-UTM, Tera-UTM and Dual Ark-UTM, have been shipping globally. They collect valuable, non-private data during their operation with user consent.
Now, leveraging the wealth of data gathered, Lionic has decided to unveil the Live Cyber Threat Map, offering a unique perspective on the global cybersecurity landscape. This service provides the public with a visual and statistical understanding of worldwide cyber threats through the viewpoint of Lionic.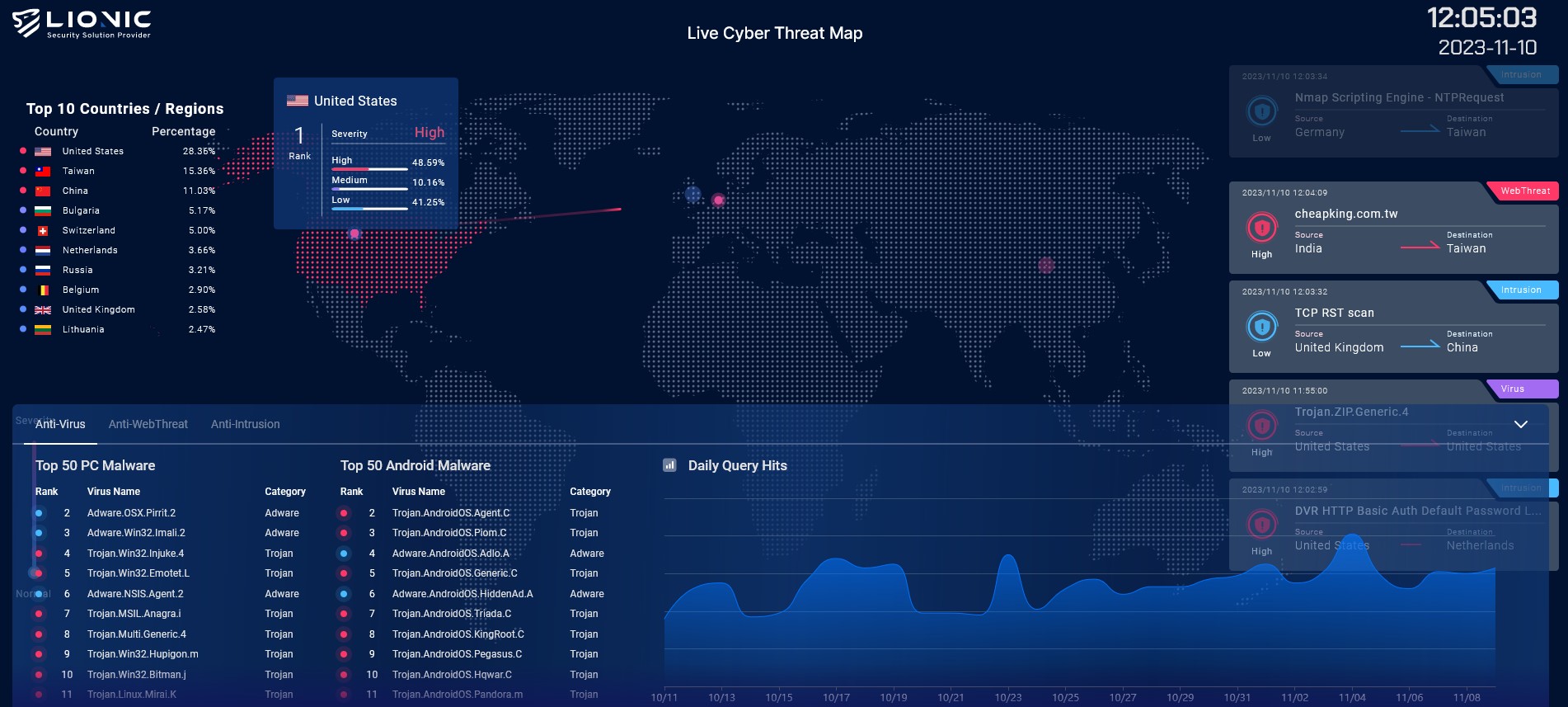 Explore the Live Cyber Threat Map's top section to find a world map that highlights the top 10 countries responsible for launching various cyberattacks including viruses, malicious websites, and intrusions. The Anti-Virus, Anti-WebThreat and Anti-Intrusion features of Lionic products are designed to address above three attack categories.
Beneath the global map, the Live Cyber Threat Map offers three detailed sub-pages, each packed with relevant statistics:
| Anti-Virus | Anti-WebThreat | Anti-Intrusion |
| --- | --- | --- |
| 1. Top 50 PC Malware | 1. Top 50 Malicious Domains | 1. Top 50 Intrusions |
| 2. Top 50 Android Malware | 2. Latest 100 URL Categories | 2. Intrusion Protocol Distribution |
| 3. Daily Query Hits | 3. Daily Query Hits | 3. Intrusion Severity Distribution |
| | | 4. Daily Query Hits |
The Live Cyber Threat Map features user-friendly visualizations, providing users with real-time insights into the cybersecurity status worldwide.
Eric Lu, CEO of Lionic Corporation, expressed his enthusiasm for this innovative project: "We are excited to introduce the Live Cyber Threat Map, a tool that enhances transparency in global cybersecurity. Lionic is committed to providing a more secure network environment, and this service further realizes our mission. Through real-time visual statistical data, it demonstrates our exceptional capability to collect and analyze cybersecurity intelligence, which is applied across all Lionic products."
Lionic Corporation has long been dedicated to delivering advanced solutions in cybersecurity. The ability to collect cybersecurity intelligence is a critical part of these solutions. The Live Cyber Threat Map shows that Lionic Corporation is capable of collecting, analyzing and applying cybersecurity intelligence, a hallmark of a leader in cybersecurity.
Official Live Cyber Threat Map Page: https://www.lionic.com/monitoring/
About Lionic Corp.
Lionic Corporation is a worldwide provider of innovative Deep Packet Inspection solutions. The technologies of Lionic include the complete DPI-based software engine and related management software which offer Security Solutions that addresses anti-virus, anti-intrusion, anti-webthreat; and the Content Management Solutions that addresses application identification, device identification, application-based QoS, web content filtering, parental control. Lionic's security and content management solutions, cloud-based scan services and signature subscription service are widely deployed worldwide.